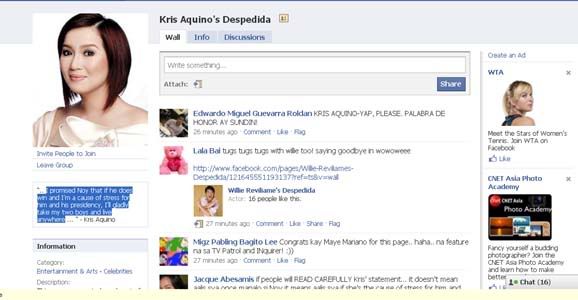 "Kris Aquino's Despedida" is one of the Facebook page that circulating in the internet that grow fast with10,176 members. The page group indicates that they want Kris Aquino out of the country.
According to the info, Kris Aquino promised to leave the country if her brother Noynoy wins.
I promised Noy that if he does win and I'm a cause of stress for him and his presidency, I'll gladly take my two boys and live anywhere there is TFC overseas"
This statement was made during the heat of her controversy with her The Buzz co-host Ruffa Guttierrez together with Annabelle Rama.
According to Annabelle: "Kris will be "more arrogant" if Sen. Noynoy Aquino becomes President."
Later this morning, Jo-Ann Maglipon sent a text message to Kris Aquino to get her reaction
Here's the excerpt of reply text message sent by
Kris Aquino to Jo-Ann Maglipon
Hello Jo-ann from Boracay. Slept 14 hours, now watching baby james & josh swim in the villa pool that faces the sea. Yes, I am leaving for a Disney vacation abroad w/ my kids but after Pilipinas Got Talent & my obligation to KTM finishes. I will be gone for at least 3 weeks then to give my kids the vacation we postponed last year because of mom's deteriorating health. I will be back on SNN on Monday, May 17. "During the entire campaign it was a non stop assault on me as a person, a mother & a sister. Well they didn't succeed then & w/ the love & support of my sisters & my brother they won't succeed now."